Vacation with View
You are looking for an apartment for a family vacation where grandma and grandpa can't miss? You want to spend sporty days in the mountains with your friends?

Grias di in the apartment Wettersteinblick in Garmisch-Partenkirchen! Here you will find everything you need for your unique vacation in the mountains: space for up to 8 people, a breathtaking view of the mountains, direct access to nature, the ski area and the most beautiful sights.
Overview of the Apartment Wettersteinblick
Four bedrooms, two bathrooms, a large kitchen and a huge living room - plenty of space for you and your loved ones!
Clean, well equipped, great location!
Comfortable beds. Easy walk down the hill to downtown Partenkirchen with lots of shops and restaurants. Would recommend this place to our friends without hesitation!

Christian W. 01.09.2019
Wunderschöne große Ferienwohnung
Perfekt geeignet für Familien mit Kindern dank des großen Spielplatz direkt hinter dem Haus. Der Ortskern ist schnell zu erreichen. Wir waren sehr zufrieden und kommen gerne wieder.

Florian J. 23.02.2020
Tolle Ferienwohnung mit Wahnsinns-Ausblick!!
Super gelegene, top-ausgestattete, großzügige Wohnung mit wirklich sensationellen Ausblicken von beiden Balkonen (Zugspitz - & Wettersteinblick). Ideal auch für Familien: geräumige Zimmer, große Bäder und ein nahegelegener Spielplatz gleich hinterm Haus.

Nicole A. 16.08.2020
Super gemütliche Ferienwohnung mit traumhafter Sicht
Direkt am Kloster St. Anton. Die Balkone mit der Aussicht auf das Wettersteingebirge sind ein Traum. Hinter dem Haus ist ein Spielplatz und man kann zur Tannenhütte wandern. Im Dorf kann man bei süßen Lädchen Wurst, Käse und Gemüse aus der Region kaufen. Wir sind immer wieder gerne dort!

Cori K. 15.01.2020
Quiet, private, yet central location!
Clean, large, easily enough for 2 parties or larger family. We were there with a family of 4, the two "kids" - 23 and 26 years old - each had their own bedroom. You will have to walk up 2 floors of stairs. There is a washing machine in the basement. We had a great time, used to live in Garmisch (drove to our favored bakery. The bakery on Ludwigstr. didn\'t cut it for us at all, so we went to Duenzinger (former Nuss) auf der Zugspitz Strasse. We are happy they are as good as Nuss used to be. A few minutes with the car along St. Martin\'s Strasse, but well worth the drive.

Georg G.
Toller Blick auf die Berge
Sehr schöne Fe-Wohnung, nicht weit vom Stadtzentrum und Bushaltestelle gelegen - Ludwigsstrasse. Die Wohnung war sauber. Aus der Wohnung ist toller Blick auf die Berge. Die Kommunikation war sehr gut und schnell. Wir haben unseren Urlaub ganz toll genossen und kommen jederzeit wieder.

Marika, 14.03.2019
Very Nice
"Very nice and clean apartment with a wonderful view of the mountains in a nice and quiet neighborhood. We are very satisfied with the service we received from the hosts. We recommend this accomodation to other guests."

Richard, 05.03.2019
Trips that start at the front door
No tiresome car-packing, start right at the front door for a mountain tour, take the kids to the adventure playground or stroll along the historic Ludwigstrasse.
Inhalte von Google Maps werden aufgrund deiner aktuellen Cookie-Einstellungen nicht angezeigt. Klicke auf "Zustimmen & anzeigen", um zuzustimmen, dass die erforderlichen Daten an Google Maps weitergeleitet werden, und den Inhalt anzusehen. Mehr dazu erfährst du in unserer Datenschutz. Du kannst deine Zustimmung jederzeit widerrufen. Gehe dazu einfach in deine eigenen Cookie-Einstellungen.
Zustimmen & anzeigen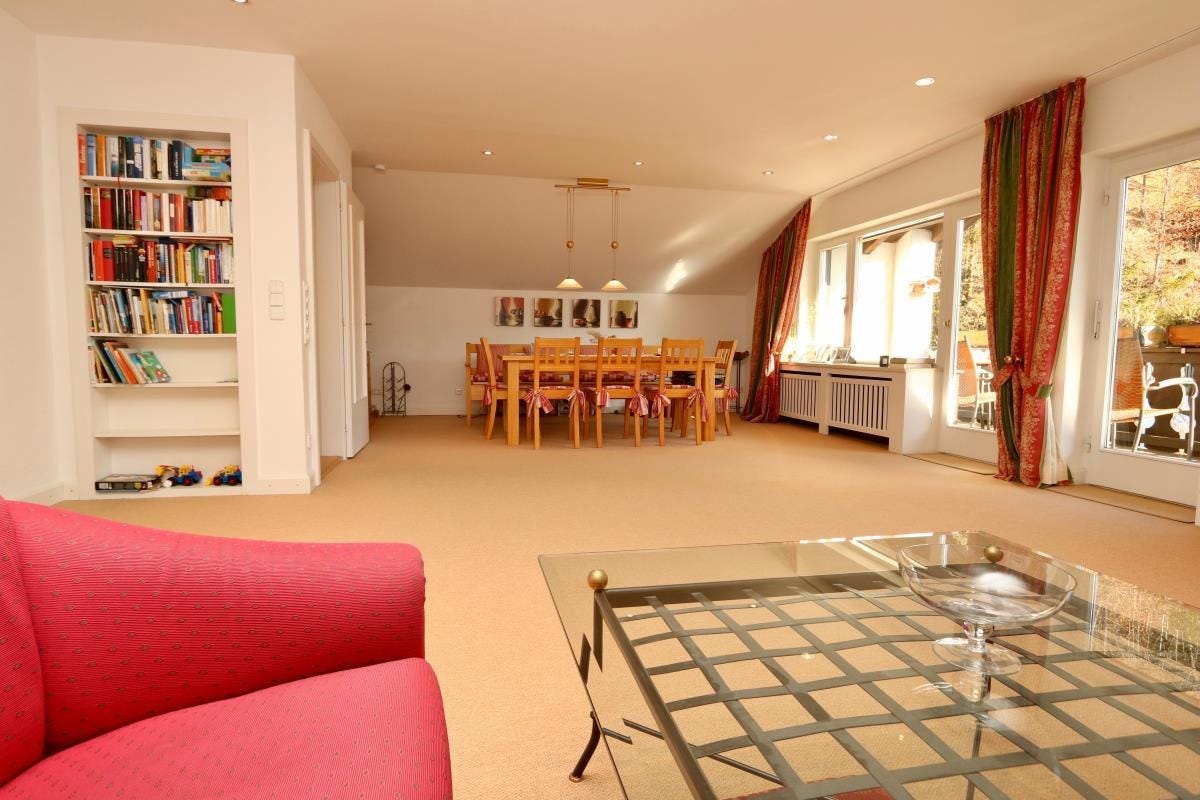 8 persons apartment for families and sports enthusiasts
The apartment is located in the district of Partenkirchen close to the center and yet in a quiet location below the pilgrimage church of St. Anton. It extends over 180 sqm over the entire top floor of the house. Here every guest feels comfortable - whether as a family, mountain biker, hiker or skier on the road. The apartment has four bedrooms (eight beds), two bathrooms and a separate toilet, two balconies with views of the Wetterstein mountains and a living room with plenty of space for spending time together with loved ones.